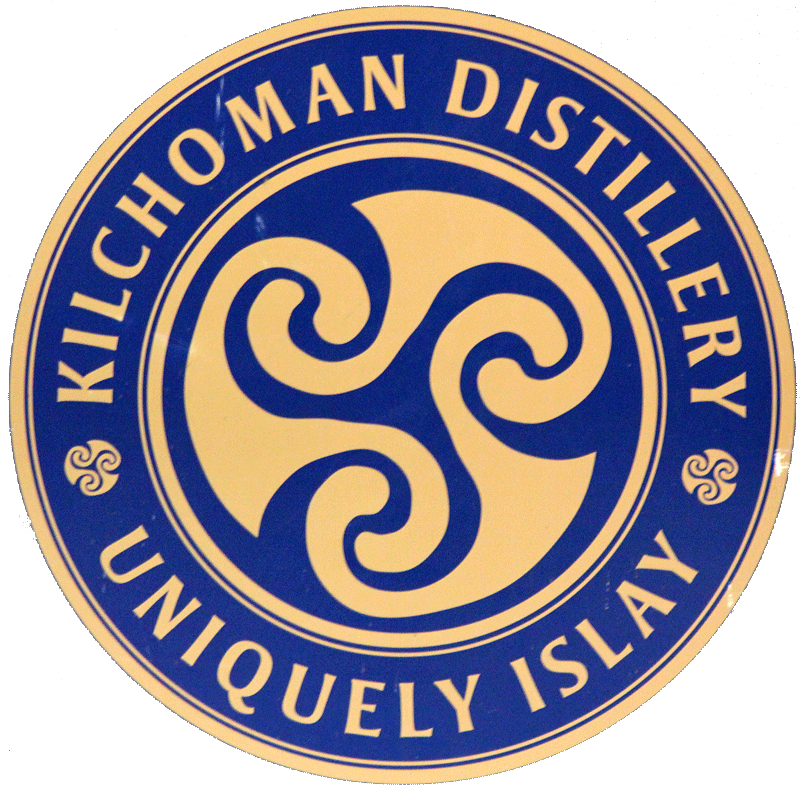 This month we welcomed George Wills from
Kilchoman
to tell us more about the youngest distillery on the Isle of Islay.
One of three brothers, his father Anthony founded the distillery in 2005. The eldest of the three, he's really lucked out coming to talk to us in Manchester while his unfortunate brothers have been shipped off to two awkward corners of the world (New York and Hawaii) to do similar tastings. It really does pay to be the firstborn sometimes...
Kilchoman was founded with the goal of being small and artisanal. Based at Rockside farm on the Rhinns, just north of the Bruichladdich distillery, they're the only distillery on the island that isn't directly by the sea. In their small mash tun, stills, malting floor and kiln they produce very small batches of whisky at a time and fill around 20 bourbon casks per week, occasionally filling into other cask types. At this pace, they manage about 160,000 litres per year.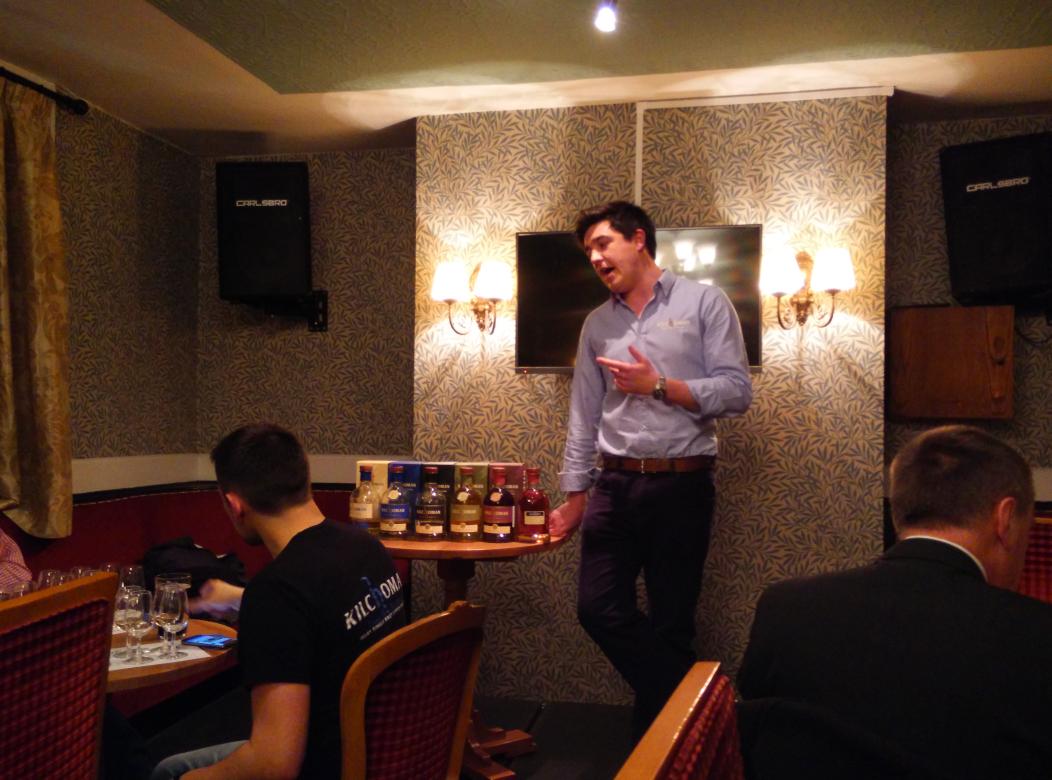 Manchester - who'd want to be anywhere else?
Generally Kilchoman release 35-40% of their stock each year, usually when it's around 5 years old. They then keep the rest to age further, except for around 10% of their annual production which is used to experiment with.
They only ever buy fresh casks with the bourbons all coming from Buffalo Trace. They arrive still assembled, often still damp with even a little bit of bourbon left in the bottom. All the refills they use are their own refills.
Coming up to ten years old this year, they do plan on releasing a 10 year old. However, in 2005, their first year, they only filled 7 casks so they're not quite ready just yet for that milestone. Perhaps next year... George tells us they'll do a seven year old soon, and a Madeira cask finish as well - exciting!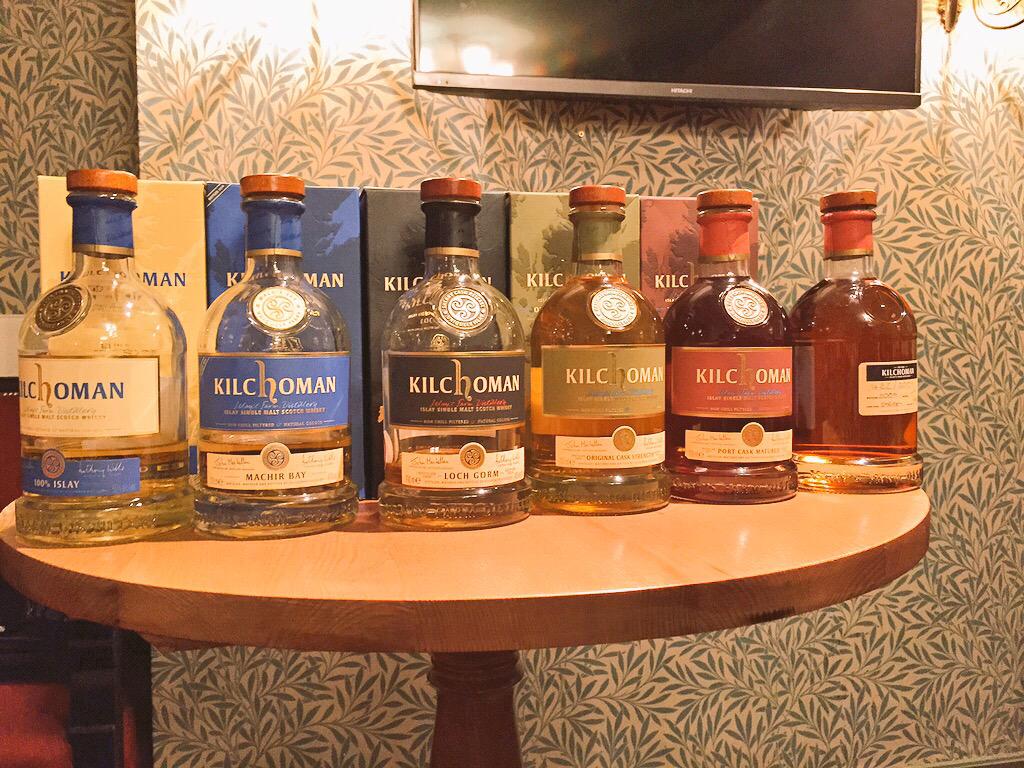 Our evening's glorious line-up
Kilchoman 100% Islay 4th Edition
Up first is the 100% Islay 4th edition. The barley is grown, malted, smoked, mashed, distilled, matured, and bottled at the farm and they grow 100 tons of optic barley per year just for this annual release. Bottled at 50% and matured exclusively in 1st fill buffalo trace bourbon, this one's a light and floral introduction to the range with a lighter peating level than the others in the line-up.
Nose:
Sweet vanilla, spring blossoms, wax crayons. Earthy, like the smell you get with fresh soil while gardening. Slightly nutty.
Palate:
Sweet grassy barley, lots of vanilla with salty earth and dry vegetal peat.
Finish:
A little waxy with smoky ashes.
Kilchoman Machir Bay 2014
Second in the line-up is Machir Bay 2014. This one's made with barley from Diageo's Port Ellen maltings, produced at a similar spec to Ardbeg. 90% of the whisky is matured in Bourbon, and 10% in Oloroso, which are then vatted together and bottled at 46% ABV.
Nose:
Wafts of citrus, with sea breeze and sweet barley. Rock dust and linen.
Palate:
Sweet vanilla and lemon candy, dry peat, barley sugar and a little mint.
Finish:
Gentle oak with a tingle of peat. Drying.


Kilchoman Loch Gorm 2015
Now here's a treat! The brand-new Loch Gorm 2015, released just this week. This is a full maturation in Oloroso Sherry hogsheads (not butts). It's not overpoweringly sweet, and has a lot of interesting savoury notes coming through.
Nose:
Rubber shoe soles, struck matches, sultanas, glace cherries, custard powder, salted nuts, dry dusty earth.
Palate:
Peated salty syrup with sweet barley malt, plums and figs, a little dark chocolate, leading to herbal oregano and peppercorns.
Finish:
Spicy clove with lime juice. More delicious dry peat, quite sticky this time.
Kilchoman Original Cask Strength
After a short break, we move onto the cask strength section of our tasting, starting with the Original Cask Strength. This was released October 2014 round about the time of the London Whisky Show. A limited release, this was produced with 35 fresh first fill Bourbon casks and bottled aged five years.
Nose:
Wood spice, candy, liqourice, hay, farmyard, salty rocks, herby vegetation and dry straw.
Palate:
Oily and sweet. Vanilla, peated custard with cinnamon. A little bit of seaweed. Peat rises to become salty and dry.
Finish:
Long and warming with savoury smoke, oak, and salt.
Kilchoman Port Cask Matured
Now this is a really interesting one... A Kilchoman matured for three years in a Ruby Port Cask. The distillery started with 20 fresh 1st-fill port casks and filled them with spirit straight away to capture the flavour. At 3 years old they decided to release it because the port was having such a strong influence on the whisky. Any longer and it'd have looked like Ribena! The colour after 3 years is already pretty fantastic...
This was released last year and sold out very quickly indeed. We're very lucky tonight because this isn't the official 55% release. George managed to get a full cask strength sample at 59%!
Nose:
Smoked cheese with brandied cherries. Musty dunnage warehouse. Barley grain.
Palate:
Fizzy sour strawberry laces, with tart raspberry, soft grape, and a Lapsang Souchoung smoke running through.
Finish:
Drying with chewy peat and savoury oak.
Kilchoman Cask Sample Oloroso 2009
And now the piece de resistance, a single cask Kilchoman from a 1st fill Oloroso sherry butt. Distilled in 2009, and bottled at a cask strength of 59.2% ABV. This particular release will be released in Belgium but there'll be a very similar one in the UK soon so keep your eyes peeled.
Nose:
Sesame seed, caramel wafers, coal tar, plasticine, marzipan, plum sauce.
Palate:
Sweet and syrupy with tangy cough drops, cola, orange zest, and tingly sour smoke.
Finish:
Long and smoky with plenty of earth and tar. Reminiscent of Ardbeg.
Staggeringly good for a 5 year old. This one really made the night for a lot of the club members. Wow!
What a brilliant tasting. Thanks so much to George Wills and the Kilchoman distillery for coming down to Manchester and sharing such beautiful whisky with us. It'll be lovely to see just how much this already delicious whisky improves over time...