The most recent meeting of the MWC saw us focusing on blended whiskies.
Blends are often overlooked and seen by some as being inferior to single malts. So we went out of our way to showcase some of the best and most unique blends on the market.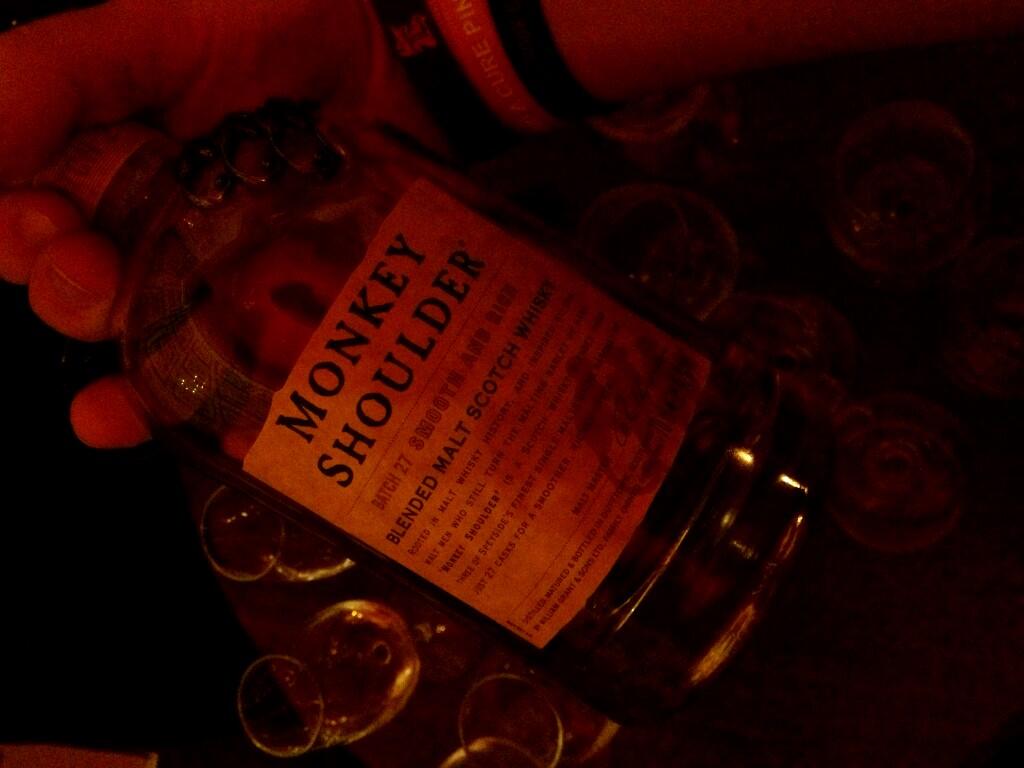 So first off we cracked open the Monkey Shoulder which is a blended malt whisky from famous blenders William Grant. Composed of 3 Speyside single malts and bottled at 40%, Monkey Shoulder is often seen as a great introduction to whisky.
Andy's tasting notes were -
Nose
-Boiled Sweets, caramel in the pan, slight malt and Butterkist popcorn
Palate
- Sweet again, a bit of treacle toffee, plums
Finish

-

Quite short, flourish of malt with a bitter tail.
You can see why this is such a good introductory whisky due to its simplicity and sweetness. I always have a bottle at home for cocktails too.


Next up is the Chivas regal 12. An immensely popular whisky in the States and Asia. The Chivas bros owned a grocery shop in Aberdeen in 1801 and started to blend their own whisky. Chivas was said to be the preferred tipple of both Jim Morrison and Frank Sinatra. Groovy.
Andy's tasting notes were -
Nose - Short toffee, the club thought I was mental but I also got plastic carrier bags, sawdust and salt
Palate
- Flat, white pepper, thin fruit syrup from the end of a fruit tin, extremely smooth.
Finish
- Very short with the only noticeable flavour being a tart metallic tang
A bit underwhelming I think but you can see why it is popular in the US and Asian markets due to the light sweetness and smoothness.
The Tweeddale Blend 12 yo Batch #2 - 46% NCF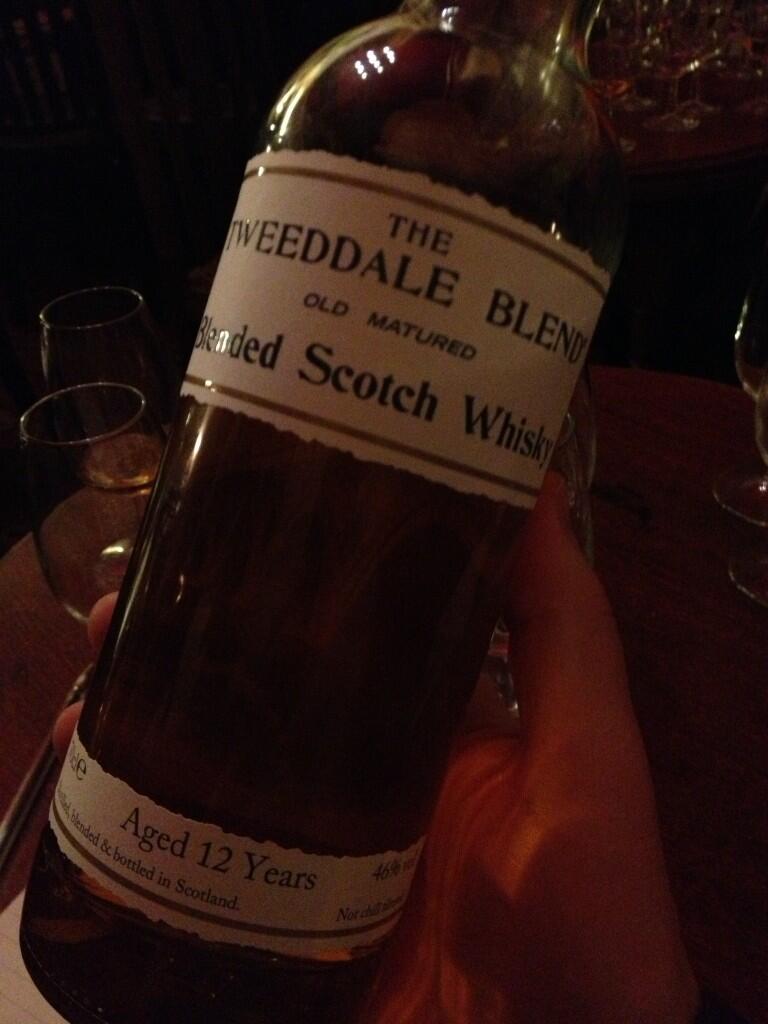 The Tweeddale blend produced by Alisdair Day is a 50/50 Grain/Malt split. Originally produced by his great grandfather back in the 1800's the
Tweeddale 12
sticks to the same recipe as it did almost 200 years ago. There are 9 whiskies in the blend and all whiskies contained are drawn from single casks making each batch unique. Out of the 9, only 1 is a grain whisky with 8 malts following.
Andy's tasting notes were -
Nose
- Very light and delicate, similar to the Bladnoch we had in January. Vanilla fudge, pear drops and cinnamon with the slightest hint of dried herbs.
Palate
- Such power from nowhere! A sudden ensemble of Spice, black pepper, lemon sherbet, peanut brittle and baked apples.
Finish - A long lingering finish of toffee, brandy snaps and Jamaican ginger cake.
Overall a lovely blended whisky that really sneaks up on you! The nose is so delicate and almost floral and then the palate contains so much complexity and spice! If Alisdair keeps this up I think you'll be hearing a lot more about the Tweeddale brand over the next few years!


Black Bull 12 yo - 50% NCF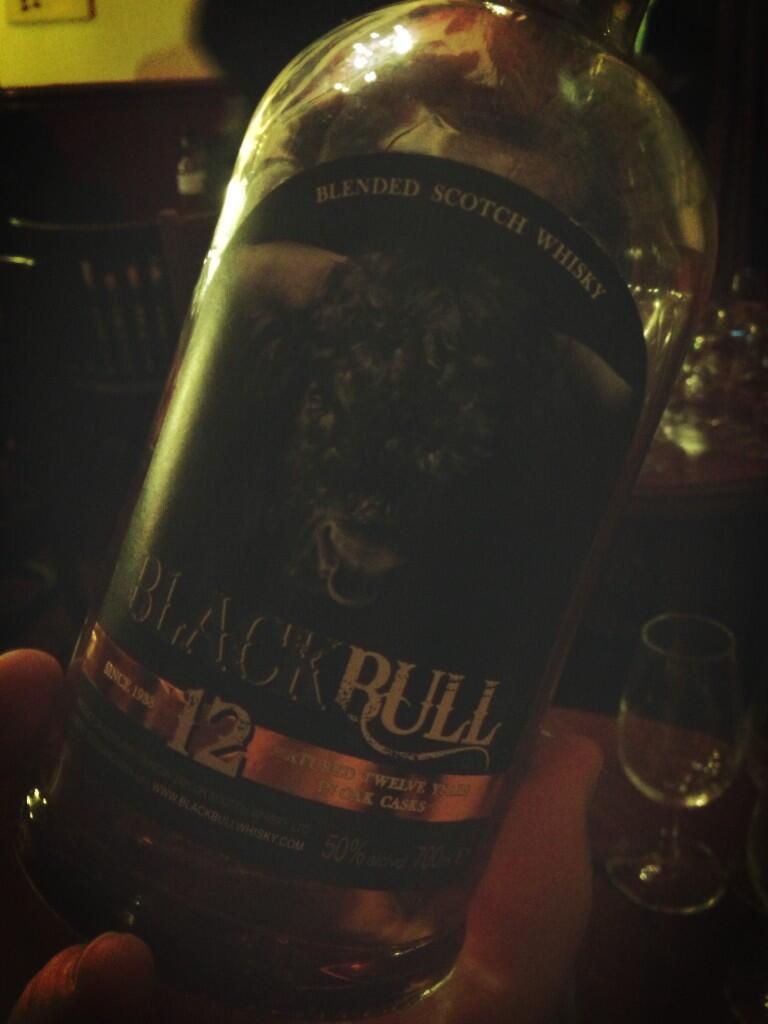 Black Bull 12
is part of indie bottler Duncan Taylor's famous blended range. First produced in 1933, Duncan Taylor took over production in 2001 and continued to win accolade's with their high quality range. The 12 has a few older brothers in the 30yo and 40yo, who knows, one day we might be able to try them too!
Another 50/50 grain/malt blended scotch Black Bull 12 yo has been kept to a whopping 50% which is fantastic to see in any arena of whisky let alone blends where 40% is sadly common place.

Andy's tasting notes were:
Nose
- Red grape, Brasil nuts, Dark chocolate, sherry, vanilla and apple pie filling.
Palate
- Surprisingly mellow and delicate on the palate, treacle toffee, vanilla pods and more apple
Finish
- Heavier fruits now, vanilla and distinct creaminess.
A great offering from Duncan Taylor here with a lot of depth of character thanks to that whopping 50%
Compass Box Spice Tree - 46% NCF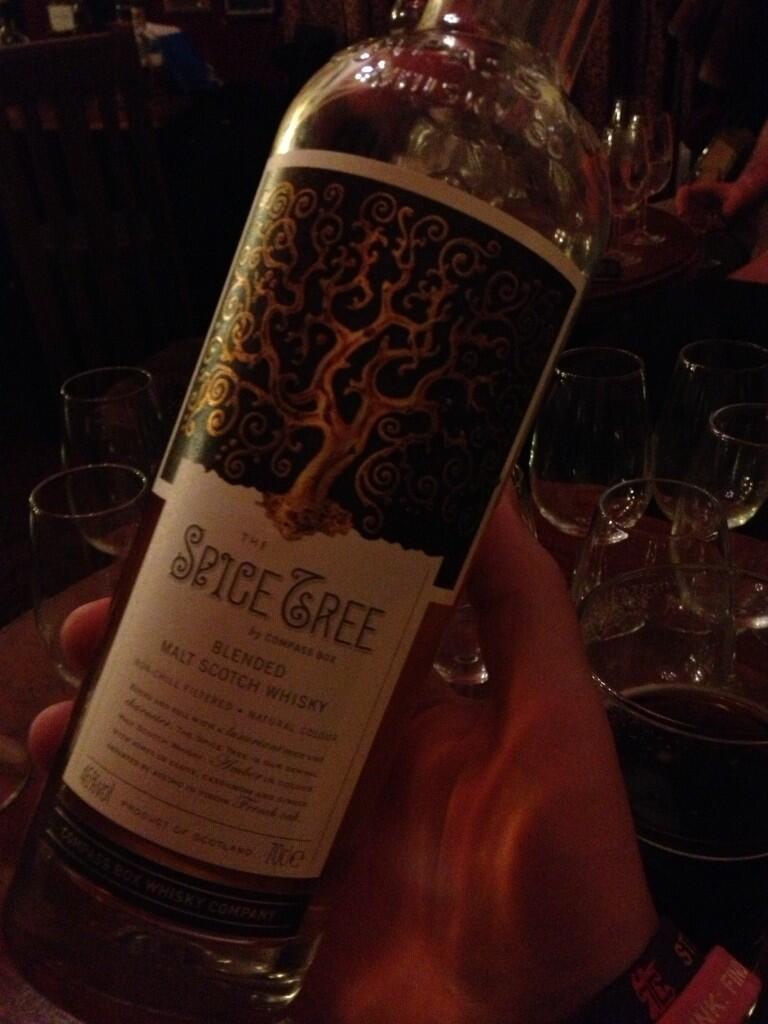 Compass Box are a renowned and boutique blending company who offer consistently high quality and award winning products.
Spice Tree
is no different. It's not all been plain sailing for the Spice Tree. It was banned from production in 2005 by the
SWA
as they didn't appreciate Compass Box's practice of adding high quality toasted french oak staves to the cask that gave Spice Tree its unique flavour.
Compass box eventually compromised by using the same oak as cask heads instead. Spice tree is a Blended Malt whisky as opposed to a grain/malt blend and is made up of only Highland Malt whisky including a big dollop of Clynelish.


Andy's tasting notes were:
Nose
- Ginger, cinnamon, clove and vanilla, deep.
Palate
- Well rounded, very full and rich, brandy snaps, caramac, nutmeg, more vanilla, rainbow peppercorns.
Finish
- Warm Biscuits, cocoa and raisins.
One of my personal favourites, you can feel the love and attention that goes into every bottle. These bottling's become a signature of the true quality that John Glaser and the team are producing.
Sheep Dip Amaroso Olorosso - 41.8%
Every so often you come across a whisky that is so unique you can't help but buy a bottle.
The Sheep Dip Amaroso Olorosso
is one of these. Originally blended and matured in Scotland for 3 years in a Bourbon cask, the whisky was then sent over to the Sherry capital of Spain, Jerez where it was transferred into a Spanish sherry cask and warehoused there.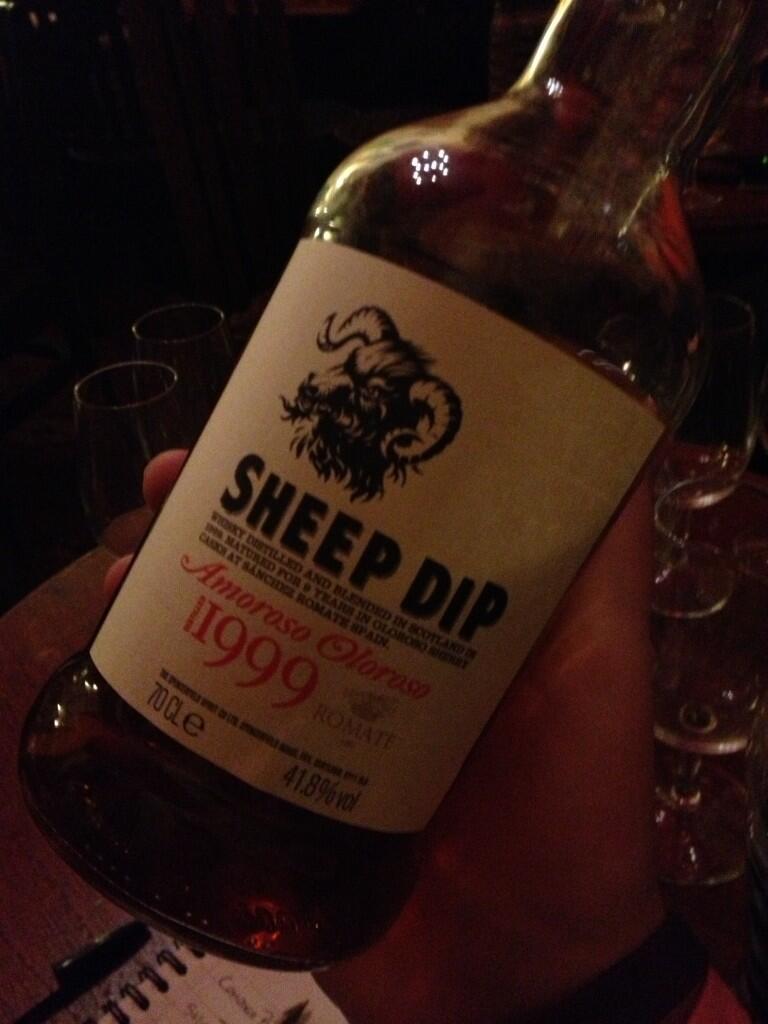 9 Years passed as the Spanish company warehousing the whisky went bust and left it there! Once the company was bought out the new company discovered the barrel and contacted the Spencerfield Spirit co ( a subsidiary of Whyte & Mackay) who retrieved the cask. Since this whisky spent the majority of its life maturing outside Scotland it can no longer be referred to as Scotch Whisky.

Andy's tasting notes were:
Nose - Holy cow! So much chocolate here! Dairy milk, coco pops with warm milk, buttered popcorn, vanilla frosting and almond.
Palate
- Nesquick milkshake, chocolate digestive, baked apple, vanilla cream, raisins,
Finish
- There it is! The sherry tail alongside warm porridge and lovely warm banana bread.
Such a unique whisky, a few exclamations of surprise went round the room when this was being tasted. If only this was in constant production, worth owning just for the novelty!
Feárr Cuideachd was the bespoke club blend that I made on Whisky Blenders website.
I used all 7 whiskies on the site including 2 grains and 5 malts in the following amounts.
BURNT PUDDIN'
100ml,
SMOKE ON THE WATER
50ml,
TOUCH OF SPICE
140ml,
SOFT & FRUITY
80ml,
COCOA-NUTS
110ml,
VANILLA FUDGE
120ml,
TASTE OF THE SEA
100ml
Nose
- Initial fruit nose including Greengage and apple, followed by toffee, spice and granola.
Palate
- Spice, a sea air freshness cutting through and a pleasant buttercup syrup-like overlay. Nice mouthfeel
Finish
- A long and lingering finish, a bit more spice here and the 50ml of peat finally makes it appearance with a soft and warming glow.
Personally I'm pretty chuffed with how well this came out, it's not easy blending blind so to speak. I've since transferred the remainder to a smaller bottle and we will revisit in a few months once it has had more time to marry together. I think this will go from strength to strength.
~~~~~~~~~~~~~
Overall I think we had some great blends on offer, from the entry level Monkey Shoulder to the higher-end and small batch blends such as the Tweeddale & Spice Tree. Personally my favourite was the Tweeddale which has a lot going on and shows the true quality of the ingredients within.
Have you had a good blend experience recently? Is one of your favourite drams a blended whisky? Let us know in the comments!
Many thanks do Dave Marsland of Drinks Enthusiast for a selection of the photographs.