Thanks to Josh for the Picture
Our second tasting of August was based around a recent trend in the whisky industry; the increase in No Age Statement releases.
A No Age Statement release or NAS for short, is pretty much as it sounds, a whisky where the company does not disclose on the bottle (or anywhere else for that matter) how old the whisky is.
SWA regulations say an age statement must show the age of the youngest contributing spirit in the bottling. Ie With a bottle of Glenfarclas 15 the youngest whisky contained within it will be 15 years old although there may be some older malt content in there also.
One of the reasons for the large increase in NAS releases is that distilleries cannot meet demand and are having to use younger whiskies in order to allow their spirits to mature.
So what happens when the gloves come off and we take a look at some of the industries flagship releases?..
Image Courtesy of the Whisky Exchange
Tomatin Legacy - 43%
The club has a bit of a bitter sweet relationship with bottles of Tomatin in the past with the old 12 year old version not performing well but the 15 and 30 receiving high acclaim. However how did the 2013 NAS Legacy release from the Highland Distillery fair?
Bottled at 43%, a good start. Matured in ex bourbon and virgin oak the nose is spicy, yet creamy with a touch of citrus. Fresh and spicy. The palate is surprisingly strong but well balanced, cinnamon, barley, apple, brown sugar and honey with a long and spicy finish.
At around £20-£25 a bottle this is indeed very good value for money despite not having a number on the bottle. The clubbers guessed this sat around the 7-8yr old mark. A good mid week pick me up.
Singleton of Dufftown - Tailfire 40%
No dear friends this is not an indication that Diageo have spanned into film production with the release of a new James Bond film starring Jim Murray as a Panama hat wearing, Glencarin toting MI5 agent.
Tailfire, coupled with the other release, Sunray are the 2 latest NAS releases from the Dufftown distillery.
Tailfire was matured in refill sherry casks and bottled at 40% with the red label indicating what the producers feel are associated red berry flavours of the spirit.
Nose, well, fair enough there is a bit of strawberry jam there, a touch of malt, crunchy nut cornflakes and warm bread. The palate is smooth but quite a thin texture. Honey, apple pie and victoria sponge. This is a very, very sweet whisky.
Tailfire sank a bit with only a few positive comments about the nose. On the plus side unlike Sunray it doesn't sound like a Care Bear film.
Tailfire's RRP sits around the £30-£35 mark.
Yamazaki Distiller's Reserve - 43%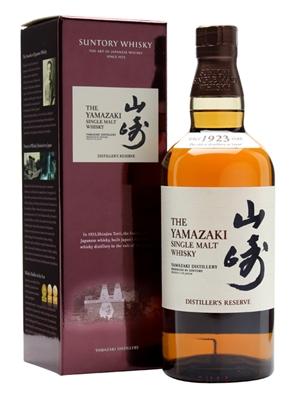 Image Courtesy of the Whisky Exchange
This is the club's second Yamazaki with the 12 yr old tasted back in summer 2013. The 12 yr old now sells at between £45-£55 which compared to £35 in 2013 is a big hike so we settled on this dram to see how it compares.
The Distiller's Reserve was released alongside the sister distillery Hakushu Distiller's reserve.
The nose is quite fruity, think pineapple upside down cake, coconut and almonds with a touch of oak. The palate is again fruity but will a well balanced sherry and oak character as well as peach and a dab of milk chocolate. The finish is medium in length and smooth with a touch of spice.
Distiller's reserve got a mixed reception with clubbers feeling it lacked a bit of depth.
Highland Park Dark Origins - 46.8%
Assassin's Creed Dark Origins David Beckham Edition
Our 3rd Highland Park of the month! Highland Park Dark Origins was hot off the press after release in late July 2014. Andy and Sean had already snaffled a sneak preview of the release at Dramboree thanks to Daryl Haldane's tasting (where he also let them in on a little secret as to it's age but our lips are sealed).
Dark Origins takes inspiration from the distillery's somewhat illicit past centered around a local man a butcher come smuggler - Magnus Eunson. Eunson was a renowned smuggler of spirits who used the local church to stash his goods. The new packaging bearing what some described as 'Assassins Creed David Beckham' with a hooded figure shrouded in a dark smokey tones leans towards what HP seem to be going for. (Obviously we cannot confirm or deny if the chap actually looked like the former England footballer)
Matured in 80% first fill sherry casks and 20% refill sherry and bottled at 46.8%. The nose is musty, tar, tobacco, oak and dark chocolate. The palate shows some orange zest, pepper and thick toffee alongside the signature Highland Park smoke.
Dark Origins went down well, with the clubbers noting the depth of flavour and amount of first fill sherry casks but in turn thinking the RRP of £65 was steep given that the age statement 12 year old is £25.
Laphroaig Select - 40%
Unbelievably, only our second Laphroaig. The Select has caused something of a stir with the online whisky community. We won't tell you why but here's how it went down at the club.
Select is matured in a vast number of cask types including Olorosso sherry butts, American white oak, PX Hoghsheads, Quarter casks, ex bourbon casks and more. We have a contingent of in-house peat heads as you might expect from a whisky club but nobody had prepared themselves for what came next.
The nose, salty initially, a touch of seaweed, lemon, caramel and a very faint dry smoke. The palate was quite distant and never really got started. More lemon, a touch of menthol and chocolate, think Fry's mint bars, Caramac and a final note of the traditional Laphroaig TCP. The finish was short with a touch of peat and clove notes seeing you to the end.
"Hmmm" Those being the words of several members.
This was certainly not like any Laphroaig any of us had had before. With an RRP of £35 + which is more than the 48% Quarter cask - £27 and around the same price as the 10yr old, this release seem to be a few pints short of a party.
Talisker Port Ruighe - 45.8%
On that bombshell we raced onto the final dram of the night. The Talisker Port Ruighe. Pronounced 'Port Rhee' after the Skye town, the release is bottled at the trademark Talisker strength of 45.8% and was finished in Ruby Port casks.
The nose is surprisingly chocolatey with dried cranberry, fig, cigar leaf? and a touch of woodsmoke. The palate is smooth yet produced the expected peat smoke but also kept in line with toffee, cherry and summer fruit pudding notes. This was topped by a lingering drying sweet finish.
A pleasant surprise from this little number. A few around the room mentioned their disappointment in the Talisker Storm and Dark Storm releases that were put to market around the same time as this bottling but very much enjoyed this one.
Sitting at around £40 RRP this is a little indication of how tactile Talisker spirit might actually be if paired with a more unusual cask type. Good stuff.
Overall Dram of the night was tied, undecided if you will between Highland Park Origins and the Talisker with a few votes for the Tomatin. The Tomatin though got top marks for value.